Artificial Grass for Pools & Patios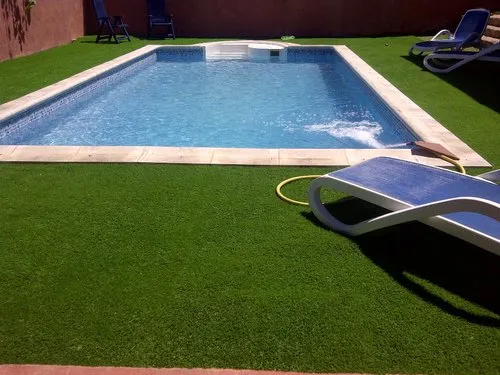 Ben Turf Landscaping pool installations incorporate a tile system that ensures our artificial grass drains completely and efficiently. Our synthetic grass is thick and soft even when laid over concrete. If it rains, your grass will be usable and dry soon after. Unlike other turf options, it isn't slippery when wet or molds like carpeting
Benefits of Artificial Pool & Patio Turf
Ben Turf Pool and Patio Artificial Turf and Patio Furnishing solutions are designed to beautify your Boca Raton and South Florida pool and patio environment while making them more comfortable, easier to maintain and safer than tile or paver applications.
We offer your Broward County and Palm Beach County home or condo common community pool area with a full suite of Artificial Grass and luxury patio furnishings that are designed to add value, aesthetics and maximum comfort throughout the most demanding months of the Florida climate.
Stay cool, look great and lower maintenance costs and responsibilities with the finest in Boca Raton Artificial Turf pool and patio furnishings from Ben Turf Landscaping.